HYDERABAD: What do constellations Orion, Ursa Minor and Scorpius have in common with monuments such as Mecca Masjid, Jama Masjid, Charminar, Qutb Shahi tombs and Falaknuma? A new observational work by a scion of the Paigah family reveals that the Qutb Shahis had built monuments in alignment with the constellations, particularly those related to their birth star or the name of their tribe, while the Paigahs built Falaknama in the shape of Scorpius constellation to complete the celestial alignment of ancient structures in the Old City.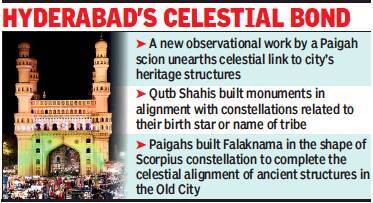 The work by heritage expert Mohammad Habib, a member of the Paigah family, the second most powerful family after the Nizam's in the erstwhile princely state of Hyderabad, gains significance in the backdrop of an international work showing that the pyramids of Egypt were built in alignment with celestial bodies.
Habib, who is also documenting heritage monuments of Hyderabad through his photography, told TOI that the pyramids are not the only structures that align with certain heavenly bodies. "We too have similar monuments in Hyderabad," he points out.
"When we speak of the Orion constellation about ancient heritage structures, the first thought that comes to mind is that of the Giza pyramids. But back home in Hyderabad, we have several structures that are in alignment with the Orion and other constellations," Habib said.
According to Habib, the Qutb Shahi tombs were built in correlation with the Ursa Minor constellation. Other three iconic structures of Hyderabad — Jama Masjid, Charminar and Mecca Masjid — are in direct correlation with the three stars from east to west — Alnitak (Zeta Orionis), Alnilam (Epsilon Orionis) and Mintaka (Delta Orionis) — also known as 'The Three Kings' that traditionally make up the 'Belt of Orion'. The alignment of the stars in the heaven are similar to the alignment of monuments in Hyderabad.
Stating that historically Orion is linked to Scorpius, Habib said Falaknuma Palace, which is located at a distance from Mecca Masjid, represents the constellation Scorpius.
"This is where the mystery behind the scorpion-shaped palace we know as Falaknuma unfolds. Paigah Amir Nawab Sir Viqar-ul-Umrah Bahadur was a prolific builder who wanted his palaces to be architectural masterpieces reflecting the grandeur of his vision. He very well understood the correlation of the three Qutb Shahi structures with the Orion and that is why he hired the two Italian architects, Oselio Bronowic and Misowalic, to build Falaknuma Palace in the shape of a scorpion, representing this celestial legend on earth," Habib pointed out.
The Qutb Shahis were of Persian descent, but in early Arabia, Orion was called 'Al Jauzah', a term that was used for black sheep with a white spot in the middle of its body. Sultan Quli's lineage emanated from the Turkoman tribe of Qara Quyunlu, which also had the emblem of black sheep in its flag. "It may well be possible that the three iconic structures together represent the emblem of the Qara Quyunlu tribe," he added.